The Queen's Award
Ideal Boiler are one of 200 organisations that have received the Queen's Award. The award celebrates businesses excelling in four different areas – innovation, international trade, sustainable development and promoting opportunity. As a result, this has lead Ideal Boiler to become one of the most popular boilers to be installed throughout the UK.
Combi Boilers
Ideal Logic+ Combi
The Ideal Logic+ Combi range comes with 10 years parts and labour warranty and 10 years warranty on the heat exchanger. As a result of their amazing Logic+ range was awarded the Queen's Award for Enterprise 2013 and Good Housekeeping Reader Recommended Status in 2013 and 2017. It is one of the only boilers in the UK to receive Quiet Mark accreditation for its quiet operation.
The Ideal Logic+ Combi Features & Benefits:
Made In The UK
Compact Cupboard Fit
10 Years Warranty
10 Years Heat Exchanger Warranty
Queen's Award 2013
Energy Savings Trust Endorsed
Built-in Frost Protection
Easy To Use Fully Back-lit LCD Display
LPG Conversion Available For 30kW
Quiet Mark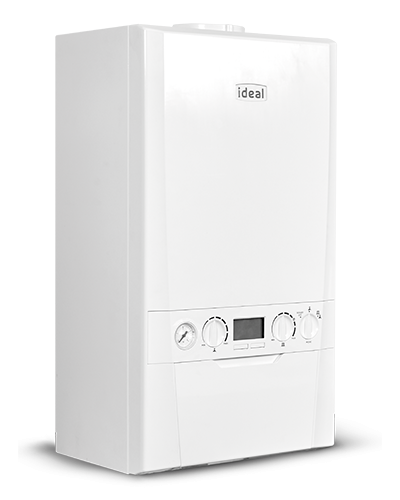 Ideal Logic Max Combi
The Ideal Logic Max is a brand new market leading Combi boiler. Combining the same amazing features as the award-winning Logic+ with the added high quality Ideal System filter. The Logic Max comes with 10 year parts and labour warranty.
The Ideal Logic Max Combi Features & Benefits:
Compatible With Ideal Controls
Compact Cupboard Fit
Easy To Reach Pressure Gauge On Front Panel
10 Year Warranty
Peace Of Mind
Service Timer With Telephone Number Display / Service Display
Ease Of Commissioning and Service
Large Digital Display
Easy To Install (Low Lift Weight) & Easy To Use